*ATTENTION* WVR fans and club members. While we would like to open up as soon as possible, we unfortunately do not fit the state of MA's criteria to be able to open during phase two of the states reopening plan. Full opening of the track will be postponed until later phases of the reopening plan. As stated before, small work parties can be organized by getting in contact with Kevin Clark at (508) 558-8906. We thank you for your understanding. Be safe, and we hope to see you all soon!
*ATTENTION* Due to state mandated COVID-19 guidelines, WVRC's opening to the public will be delayed until at LEAST the beginning of phase 2 of Massachusetts COVID-19 response plan. Until then, we are able to run work parties by appointment only. If you are interested in coming to help get the club grounds into shape before our opening, get in touch with the page or Kevin Clark at (508) 558-8906. We hope everyone is staying safe and we hope to have more updates soon!
These will be the Race Day times until further notice.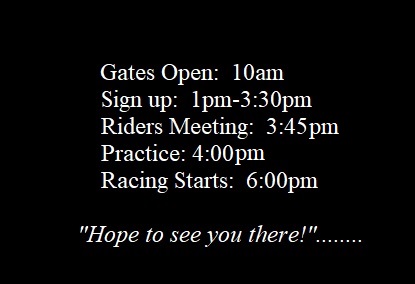 *Reminder.....We will be stressing our Mandatory Sound Ordinance testing of 92 decibels....This will be strictly enforced....Thanks for your cooperation.
Thoughts and Prayers to the Family from all of us at WVR... Godspeed 27u