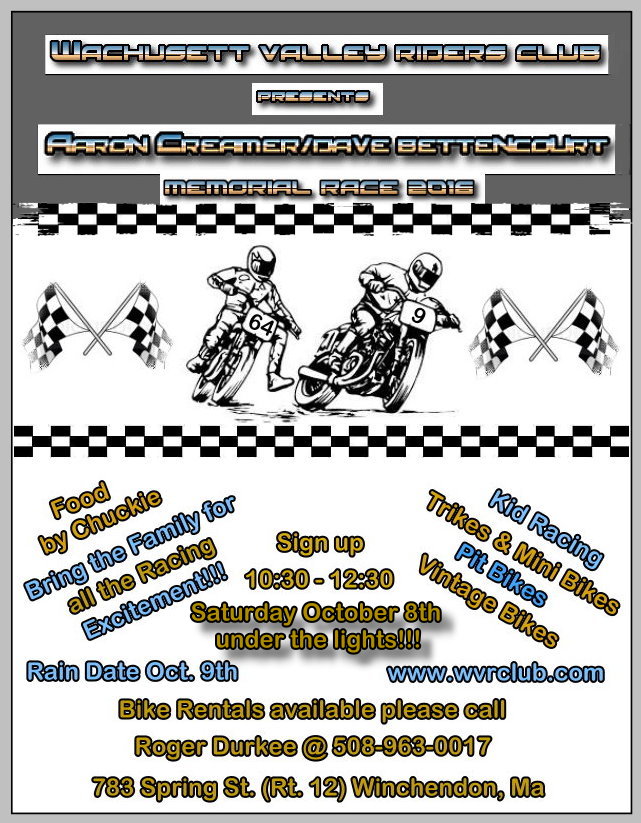 4TH Annual Pete Giammalvo Memorial Race 7/16/2016
It could not be more perfect of a day, Riders, family and spectators started pulling in and the track was packed with barely a place left to park. All to pay tribute to a great man, rider, husband and the one who started it all for us, Pete Giammalvo. So many new faces and of course many old who we haven't seen in a while, dusted off their bikes to come pay tribute. A total of 148 entries, our biggest race to date, was underway!
Before we began, all riders lined the TT track in honor of Pete. Our own John "Zeke" O'Connell led us in song by singing the National Anthem and our own "Hopper" led us all in the Pledge of Allegiance. And our day began. A total of 21 classes took to the track, many classes with more than 10 entries, with a Pro Race payout along with the largest payout to the Amateur TT, our biggest class of the day. Congratulations again to Mark Roy for taking the win once again in that class. Also would like to congratulate Andrew Reddington for taking the win in the 150 Pro Mod class thanks to Roger Durkee sponsoring him on his National Number 88 bike. Which by the way was a Rental bike, all sizes are available for rent on race day and our Family Fun Days by calling Roger Durkee at 508-963-0017.
The day was incredible; we raced right into the night with no serious injuries, just some good bumps and bruises! We would like to thank all, from the spectators to the Riders, new and old, for a great day. And a special thanks to Roger Durkee, Kevin Clark (our world famous flagger), Dan Greene, "Zeke" our Announcer, Mary Giordano and all that made this day possible. Also would like to add Connie Giammalvo's touching words, " I want to thank all the racers and fans that came out to the Pete Giammalvo Memorial Race! Great nite of racing and memories. So happy to see all our old friends. Love you all- Remembering a great man. Thank you Connie and looking forward to next year.
Our next big Memorial Race will be on Saturday October 8, 2016 in honor of two great racers, Dave Bettencourt and Aaron Creamer. So bring the family and friends out for some great racing, or if you'd like to try and race, check out our schedule at www.wvrclub.com. Also for race highlights and race results tune into our own "Calamity Gina's Flat Track Radio" at www.bikerradiostation.com at 6pm Wednesday nites. And as always "Hope to see you there!"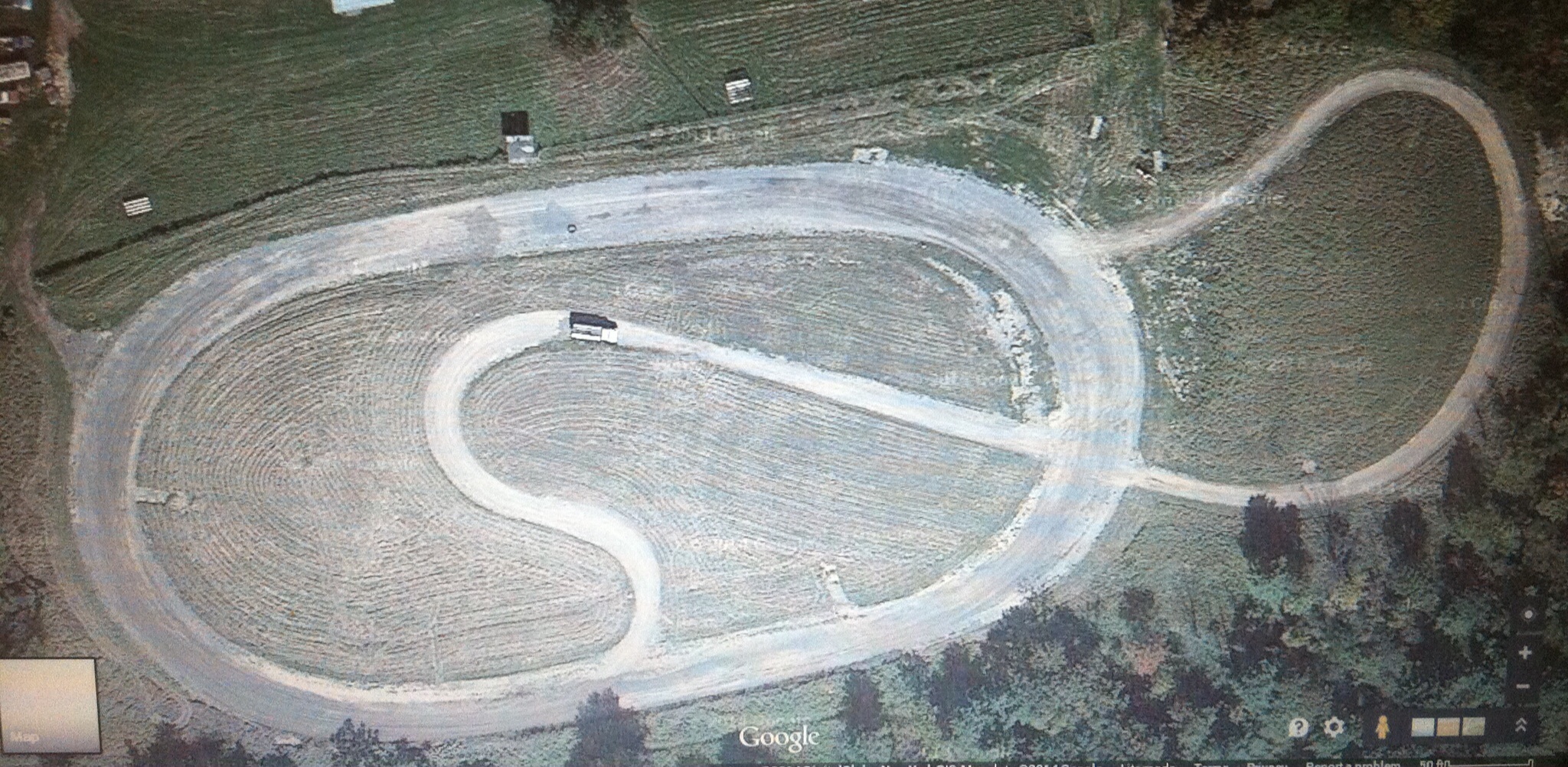 NEXT RACE @ELECTRIC CITY SUNDAY JULY 24TH.
Wachusett Valley Riders will be racing at Historic Electric City Speedway, Kelly Station Rd, Duanesburg NY.
(This is not a points race for WVR)
If you would like to Rent a 150cc bike to race in the $Pro Mod$ 150cc class or the 125cc (2 stroke) - 160cc (4 stroke) Novice or experienced please call Roger Durkee by Thursday Night by 7pm. This is a great opportunity to have some fun in a new class.
"Hope to see you there!"
Saturday June 11th marked the 1st Annual Gregg Seraphin Memorial Race at Wachusett Valley Riders Club. Gregg was a Champion Pro Rider, Ice Racer and Member of the Club who sadly left us March 2, 2016.
The day started out not promising, heavy rain fell and we feared the threat of cancellation. Once again I do believe Pete was watching over the track as the rain ended in plenty of time to get the track prepped and a crowd of Riders, Spectators and kids of all ages emerged from there vehicles to gather and get some racing started. The turnout was beyond believable with 100 entries and a crowd of Spectators to cheer them on as the first class rolled onto to the track. The races went smoothly on a spectacularly groomed track all day and into the night under the lights with the crowd cheering on. A big thanks to all the track personal who worked hard to make this event possible and contributing their time to make this all possible. We would also like thank all that showed and supported our Club and Event and look forward to seeing many of you at our future races and upcoming Pete Giammalvo Memorial Race on July 17th.......as always..."Hope to see you there"
Ok there seems to be some confusion with the points and racing in N.Y., all points except for the double header August 13 & 14 at Electric City are home track points, the races in N.Y. are just races, no points, again except for the double header in August. Hope this clears up any confusion and looking forward to a great season of racing. If you have any questions please feel free to contact Roger Durkee.

For next season please keep in mind all bikes must be at 98 decimals, and cannot exceed this limit, if you are unsure if your bike is above the level please see Roger Durkee. Looking forward to another great season in 2016!

+
For those who don't have a bike or equipment and want to try racing, Roger has made available a CRF 150 for rent and also we have all size equipment available to borrow. For bike reservations please contact Roger Durkee at 508-963-0017. Also a shoutout to all you pitbike riders!! Looking to get atleast 10 riders for our pitbike class, $40 to enter and consists of one heat and one main. With atleast 10 riders we will be offering a cash payout to the top 3. ($150 1st place, $100 2nd and $50 for 3rd). Purse goes up the more riders we can get, so grab your pitbike and your buddies and join us for some hardcore fender banging racing, free camping, great food and a awesome family atmosphere!......."Hope to see you there!"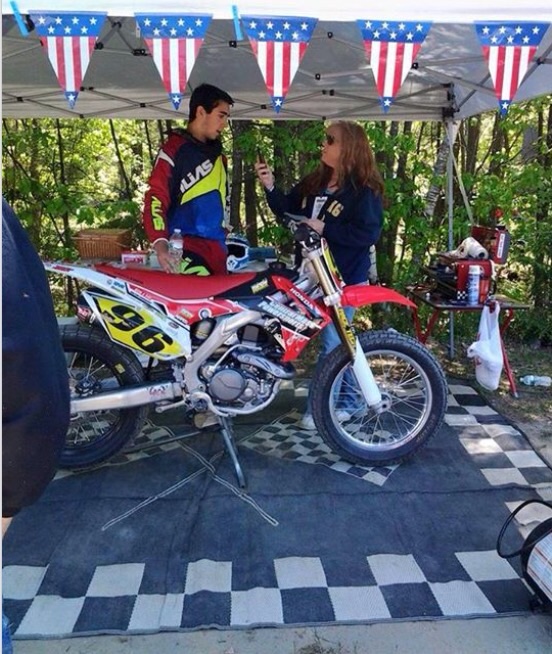 +
Our own Dalton Brisbois with Calamity Gina........
Had a really productive weekend again at Wachusett Valley Riders Club! Ended up with a pair of 5th places in Open Pro and Sportsman, and even got to do my first... radio interview with Gina Livingston-Marshall for WLIBR(check it out at www.bikerradiostation.com Wednesday at 6pm)! Felt fantastic to get my sponsors some more exposure! Sunday at the practice day we got to meet a lot of new faces that we will hopefully see come back and race! See everyone at Malta Sunday!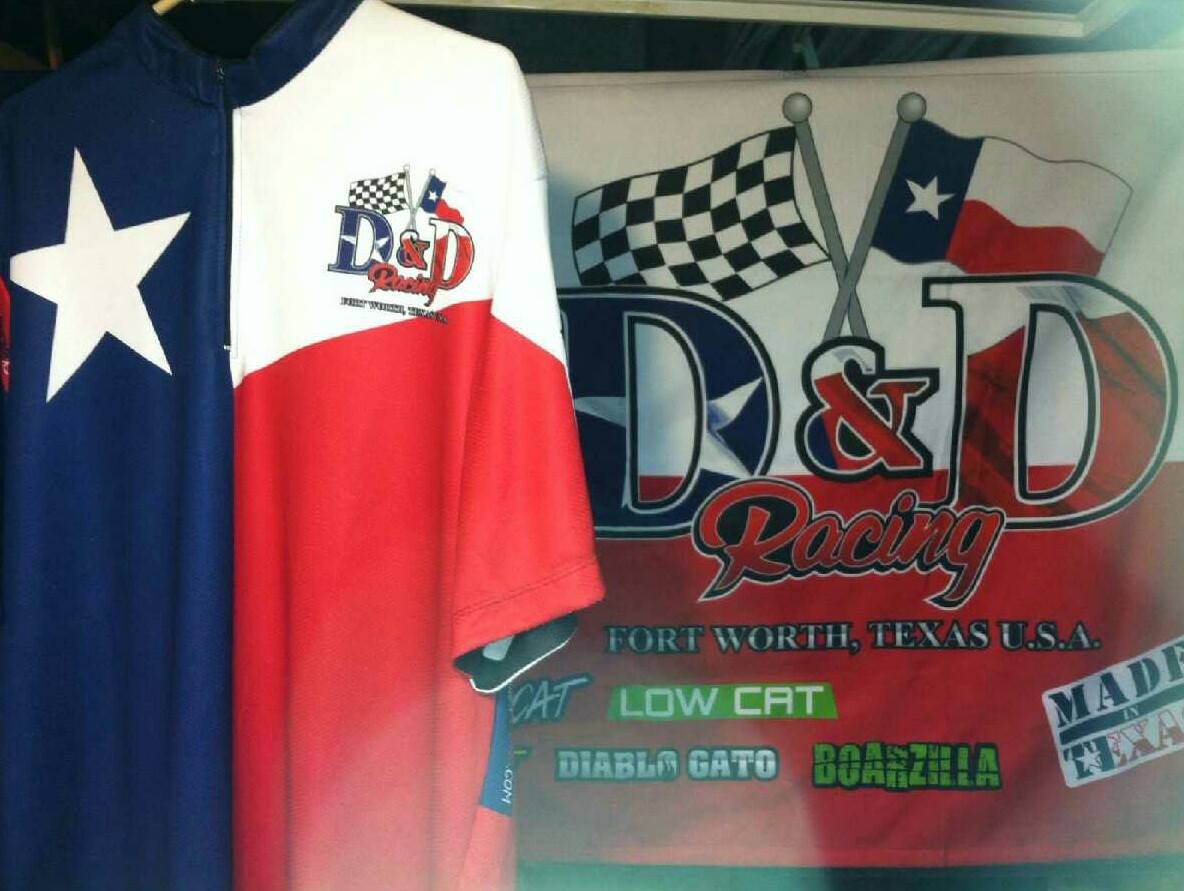 +
Our own Flagman Kevin Clark!
As WVR's own flagman Kevin Clark is back from flagging the Superprestigio Dirt Track race, he brings along good news! D&D racing, making top quality pipes right out of Texas, and proud sponsor of Jared Mess (who put in a fantastic ride in Spain) is also going to be a proud sponsor of WVR in 2015! In an effort to try and raise funds for the kids at the track, we will be doing a silent auction at the WVR banquet for the shirt pictured above! This was a pit shirt worn at the Superprestigio by a member of Jared Mees's crew! So thank you, D&D racing for jumping on board for 2015! Go check them out at wrexracing.com .......more info to come!

FullSizeRender
+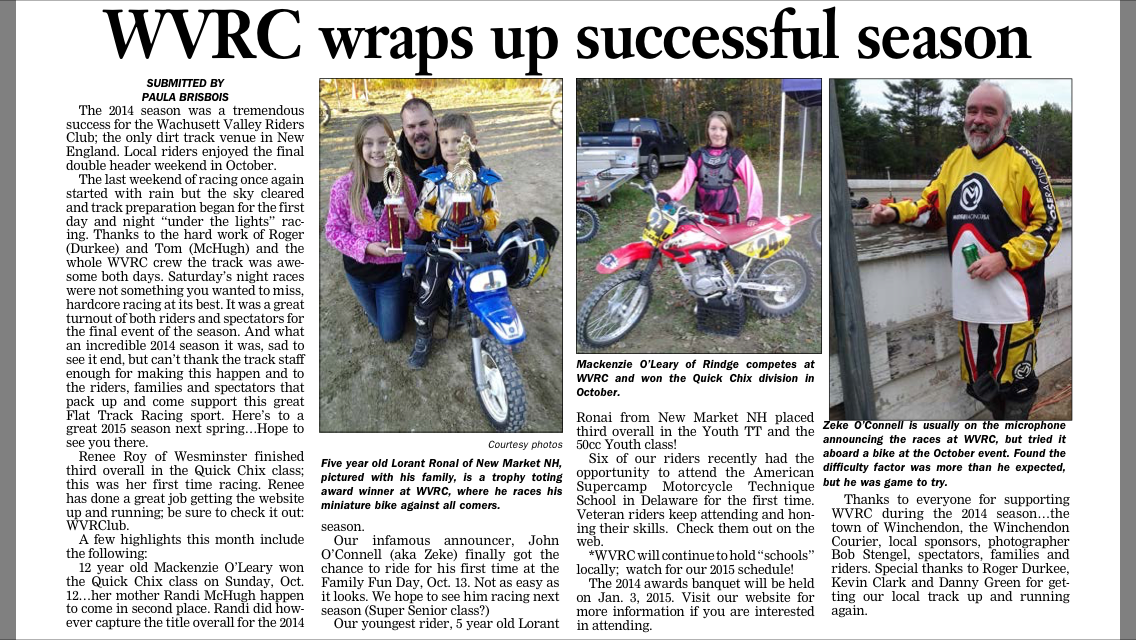 +
WVRC wraps up successful season
SUBMITTED BY PAULA BRISBOIS
The 2014 season was a tremendous success for the Wachusett Valley Riders Club; the only dirt track venue in New England. Local riders enjoyed the final double header weekend in October.
The last weekend of racing once again started with rain but the sky cleared and track preparation began for the first day and night "under the lights" rac­ing. Thanks to the hard work of Roger (Durkee) and Tom (McHugh) and the whole WVRC crew the track was awe­some both days. Saturday's night races were not something you wanted to miss, hardcore racing at its best. It was a great turnout of both riders and spectators for the final event of the season. And what an incredible 2014 season it was, sad to see it end, but can't thank the track staff enough for making this happen and to the riders, families and spectators that pack up and come support this great Flat Track Racing sport. Here's to a great 2015 season next spring…Hope to see you there.
Renee Roy of Wesminster finished third overall in the Quick Chix class; this was her first time racing. Renee has done a great job getting the website up and running; be sure to check it out: WVRClub.
A few highlights this month include the following:
12 year old Mackenzie O'Leary won the Quick Chix class on Sunday, Oct. 12…her mother Randi McHugh happen to come in second place. Randi did how­ever capture the title overall for the 2014 season.
Our infamous announcer, John O'Connell (aka Zeke) finally got the chance to ride for his first time at the Family Fun Day, Oct. 13. Not as easy as it looks. We hope to see him racing next season (Super Senior class?)
Our youngest rider, 5 year old Lorant Ronai from New Market NH placed third overall in the Youth TT and the 50cc Youth class!
Six of our riders recently had the opportunity to attend the American Supercamp Motorcycle Technique School in Delaware for the first time. Veteran riders keep attending and hon­ing their skills. Check them out on the web.
*WVRC will continue to hold "schools" locally; watch for our 2015 schedule!
The 2014 awards banquet will be held on Jan. 3, 2015. Visit our website for more information if you are interested in attending.
Thanks to everyone for supporting WVRC during the 2014 season…the town of Winchendon, the Winchendon Courier, local sponsors, photographer Bob Stengel, spectators, families and riders. Special thanks to Roger Durkee, Kevin Clark and Danny Green for get­ting our local track up and running again.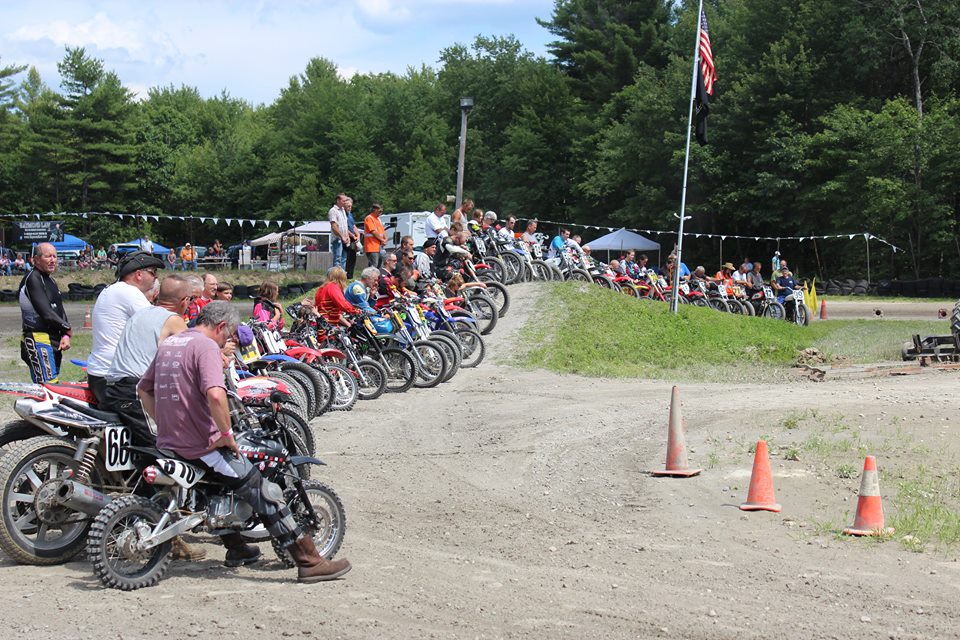 +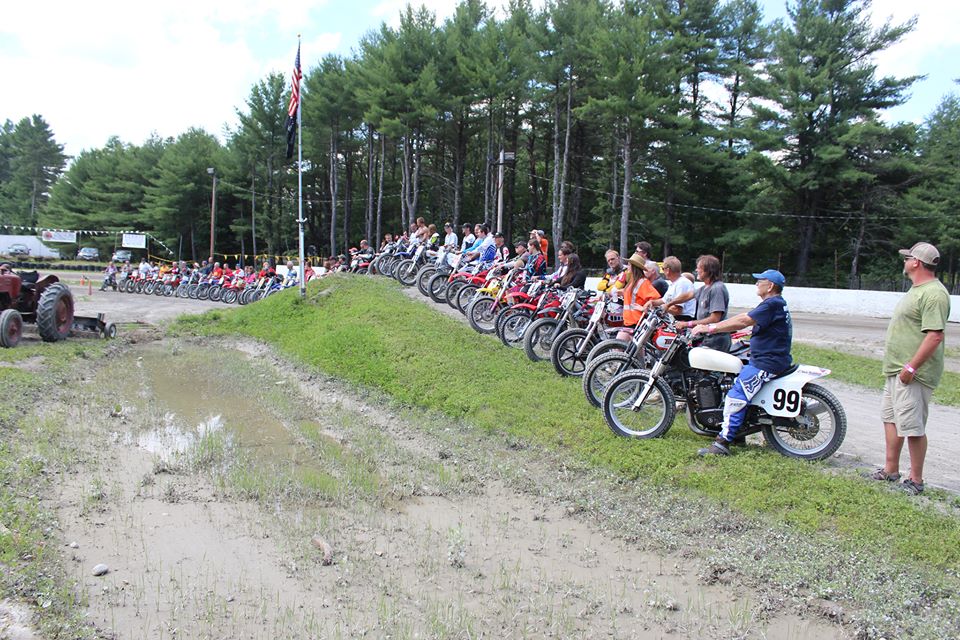 +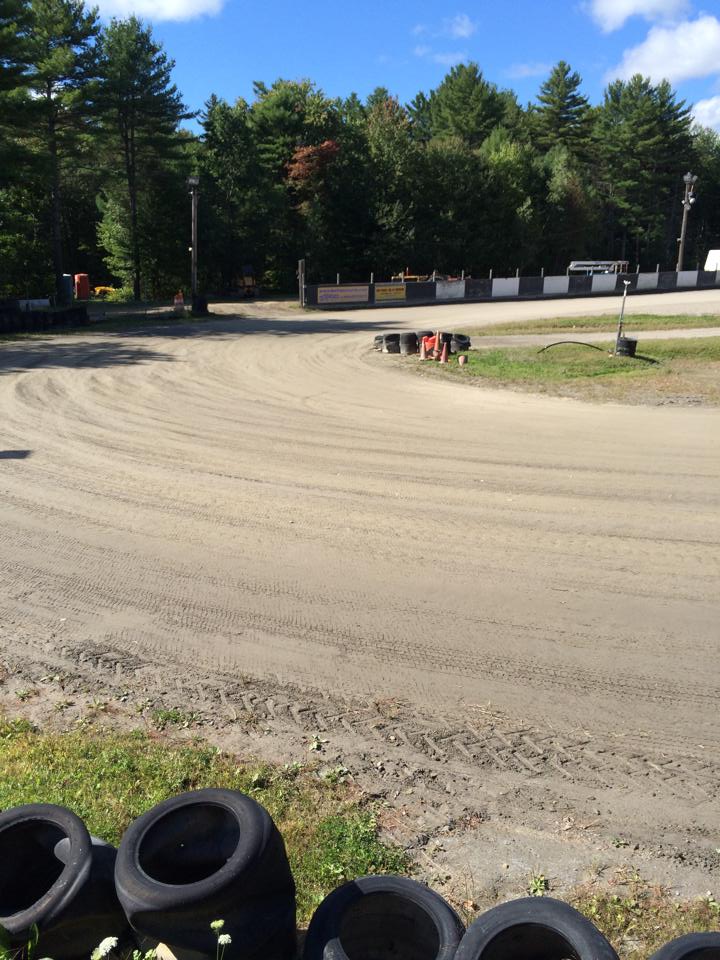 +